Upcoming events for 2019:
Saturday 7th December: Grassington Dickensian Festival, 2.15pm
Come and get into the festive spirit and listen to the orchestra play some Christmas tunes and carols while browsing the market . See www.grassingtondickensian.co.uk for more details of what's happening.
Sunday 8th December: Christmas Concert with Selfa, Holy Trinity Church, 2pm  FREE ENTRY
Another chance to listen to the orchestra play some carols and festive music, together with children and adults from Skipton's Children's Charity, SELFA.
Collection in aid of SELFA.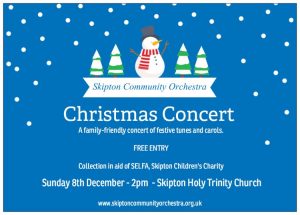 We have performed at a range of local venues and events over the years, including Grassington Festival in the Square, Buckden Gala, Celebrate Craven, Skipton Library, Christ Church School, Holy Trinity Church, Cliffe Castle, Keighley, Aireville Park Community Picnic.
We never charge for our performances as we strongly believe that everyone should have the opportunity to listen to live, orchestral music. Our performances are very informal and are particularly suitable for young children, often with percussion instruments to join in with and an opportunity to try out instruments afterwards.
If you would like us to play at a community event, please do get in touch. We usually need a few months' notice to make sure that sufficient players are available and to give us some time to practise!
Check back to find details of our next performance.